TONOR TW-820 Dual Wireless Microphone
Product image 1
Product image 2
Product image 3
Product image 4
Product image 5
Product image 6
Product image 7
Product image 8
Product image 9
TONOR TW-820 Wireless Microphone UHF, Dual Professional Dynamic Microphone Set for Karaoke, Party, DJ, Church, Wedding, Meeting, Class Use, 200ft

With built-in high-quality chip and advanced digital decoding technology that is used to achieve excellent sound reproduction, making sound quality more clear, pure and full. It supports 15 sets of this device to be used simultaneously and the wireless range is even up to 60m in open space.
Specifications:
SNR:96dB
Distortion:≤0.5%
Frequency response:50Hz--15Khz
Operating temperature:-0℃to+55℃
Power:DC12V1A
MAX Signal Range:60m
Frequency stability:±0.0005MHz
Customer Reviews
Good Value and Easy to Set Up and Use
15 minutes after I received the Tonor TW820 Wireless Microphone system it was up and running and sounding good. I'm not an expert by any means, but this was totally easy. In fact, setting it up now only takes 2 minutes, because the first time I had to find 4 AA batteries! I just plugged into my guitar amp (my PA system was in storage) and I was in business. I found the microphones to be well-constructed along with the UHF control unit. I wasn't able to test up to the 200 ft distance claimed, but over 50 feet of separation from the unit there were no problems. The mics sounded pretty decent too, with a nice bass response. Overall, I feel happy with the unit, and I think it's good value for the money.
Great multi-channel microphone set
I've reviewed and tested a lot of microphone sets in the past few months as we can use them for our church. The nice thing about this compared to many others is the fact that you can change the frequency. This is great when you have the potential that other microphones have the same frequency or if there is interference you can change this one on the fly.
Delivers clear sound with good build quality!
It is my first wireless microphones and I cannot say anything about the product in comparison to some other. I bought this for my new karaoke system. And I am very happy with the product. It delivers clear sound and the build quality is very solid. I preferred this item over some other similar product as this uses regular battery which is easy to be replaced. Strongly recommend!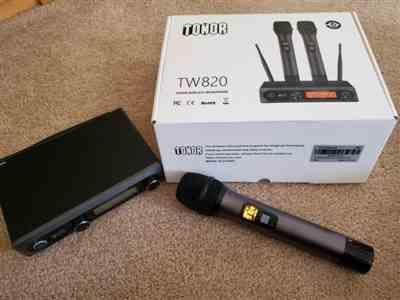 Great quality the sound is very clear
Great quality the sound is very clear we use this at church and the experience has been great the quality of the mics is good and the battery life has been good but we change the batteries every time we have to play just because we don't want to have any problems when we are playing
Excellent quality, amazing sound and A+ experience
Love this wireless microphone set. The most important thing about a WIRELESS microphone set is the steady range and constant stable connectivity. Several microphones I have used in the past had connection dropping or connections resetting at several occasions. This set is perfect in that sense and has a stable continuous connection to the wireless prices. Second the quality is excellent. The built, feel and finish of the microphones and the base is excellent, sturdy and looks durable and strong. The finish is matte and they look good while you are holding and experiencing the set. The connectors and out of the box accessories are exactly what you need to get the setup going. All you need is 4 AA batteries for the wireless microphones and when you turn on the base and microphones, the base automatically detect the frequency of both microphones and is ready to use. No issues at all, perfect!