Omnidirectional Mini Microphone -The microphone has an omnidirectional pickup pattern with a pickup distance of 11.5 ft, making it easy to capture the most subtle sounds from 360° directions and transmit the sound more loud and clear. Participants can hear each other without raising their voices.

Made for Conferences - This microphone is perfect for small or medium meetings over an internet network by using Skype/GoToMeeting/WebEx/Hangouts/Fuze/VoIP/Zoom and other softwares. You can also use it for court reports, seminars, remote training, business negotiations, video chats, etc.

Plug & Play, No Drivers Required - The microphone is compatible with all operating systems - both Windows and macOS. You just need to plug the microphone to start recording. If there is no response after inserting the mic, please go to the microphone setting of your computer and select the mic as the INPUT device.

Convenient Mute Button - Quickly mute/unmute your microphone. The built-in blue indicator light for checking whether the USB microphone is working.

Well Designed Cable, Durable - This conference microphone is constructed of sturdy and durable metal material and the base is fitted with an anti-slip mat which keeps it stable on desktop during use. It is small, convenient and does not require much space when in use. Connected with a 1.5m nylon shielded wire, it effectively eliminates signal interferences to achieve the best recording results.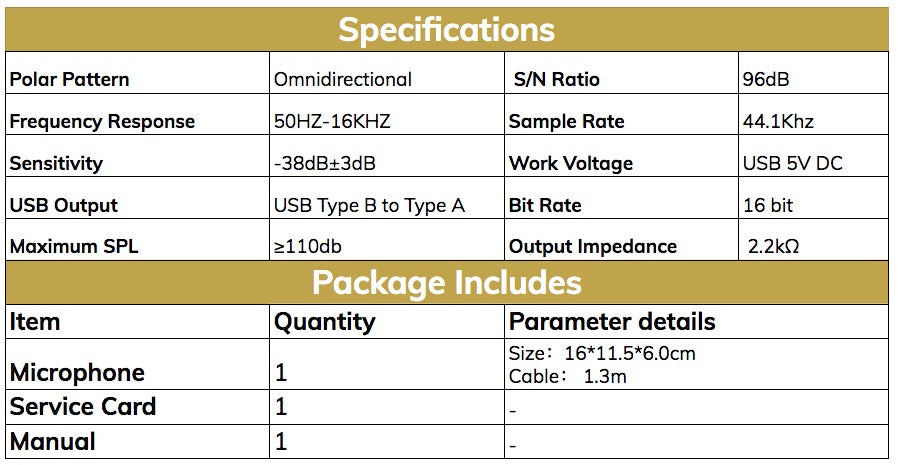 Customer Reviews
Just what I needed.
I work from home and spend a lot of time on slack or zoom calls. Wearing a headset for long periods of time can be uncomfortable. I already had good external speakers, I did not want to have to switch audio output setting between listening online vs. a call, and to buy an all-in-one conference call device was more money than I wanted to spend. This device was the perfect solution. I love that it has a low profile, the long cord affords great flexibility in placement of the microphone. I have mine sitting right in front of my monitor on my desk, out of the way. I am told that the audio quality is good. This is in my top 5 of best purchases since I have been working from home full time.
Zoom calls work now!
My family is now doing the Zoom calling thing due to the stay at home order. The mic built into my PC was useless and the calls were frustrating. This mic fixed the problem. Money well spent. Plug and play - easy to use.
Works great
Works PERFECTLY for everything I tried it for thus far, plugged it into my Macbook and haven't regretted it since. Easy and sounds good for telecommuting meetings, making remote learning instructional videos, etc
Great Sound Quality, Low Price
I use this in my home office for conference calls. It is small, sleek and doesn't consume precious desk space. People at the other end of my calls tell me the sound quality is excellent; loud and clear. I have started to recommend this product to coworkers looking for a solution.
Works great, even with USB over Ethernet extension
We bought two of these for computers setup as video conference units at our place of business. Both work great, plugged into Windows 10 and it took care of drivers no issue. I even extended one of them using a basic Monoprice brand USB over Ethernet extender and 15' CAT5. No issues, very happy.