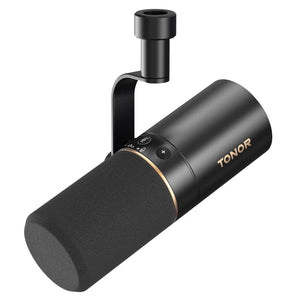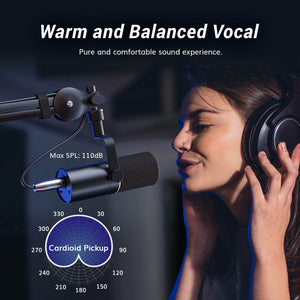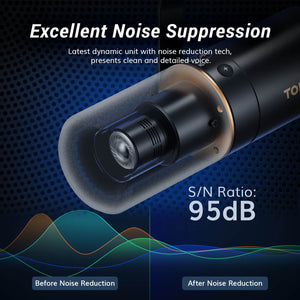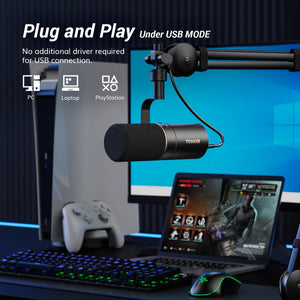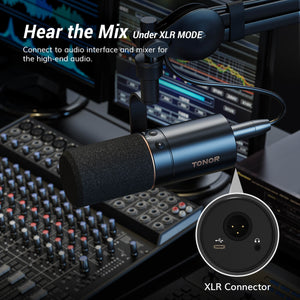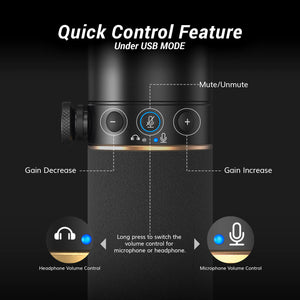 For EU Customers

Click the flag below and buy on our official Amazon Store:

Warm and Balanced Vocal: The premium dynamic core brings an excellent frequency response range (50Hz-14KHz) and outstanding sound pressure level (Max SPL.110dB), which records rich, natural-sounding vocals.

Excellent Noise Suppression: Cardioid pattern eliminates off-axis audio and minimizes ambient noise. Plus, its built-in noise reduction technology ensures an extremely low noise floor and a signal-to-noise ratio of 95dB, resulting in a pure and pristine sound experience.
USB and XLR Output: This microphone supports both USB and XLR outputs. Under USB mode, it is plug-and-play. The XLR interface outputs analog signals, which enhances the sense of audio space. Furthermore, it supports an audio interface and mixer.
Perfect for Content Creator: Under USB mode, you can directly press the buttons to control the mic. With a 3.5mm headphone jack, you can monitor your voice in real-time. This microphone is the perfect choice for YouTubers and TikTok influencers.
Premium Metal Shell: The shell of this mic is crafted from premium zinc alloy casting, which is highly durable and resistant to corrosion.
Attached Pop Cover: Pick up a super clear and crisp voice without worrying about plosives and the harsh sound of consonants. Generate clear and pure sound.
Shipping&Returns
Shipping from USA: Standard / Arrives 3-5 Business Days.
Money Back Guarantee: Return Without Affecting Secondary Sales in 30 Days. 
24/7 Customer Support: [support@tonormic.com]
Customer Reviews
Amazing Microphone
Very good microphone, if you know how to eq you can make it sound like a shure mic.
Quality great and sturdy as well
Love the over all product itself. Quality is crisp and clear and I can't wait to use the XLR side down the line. But for now with the USB works and feels great. Overall very happy with product and highly recommend