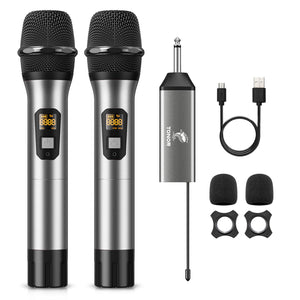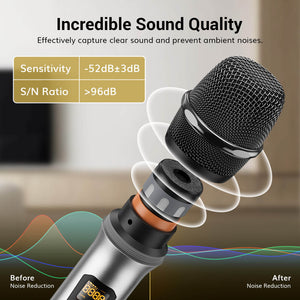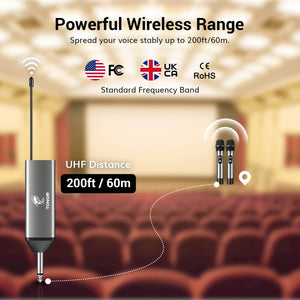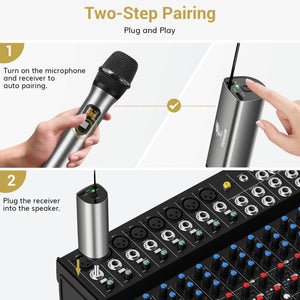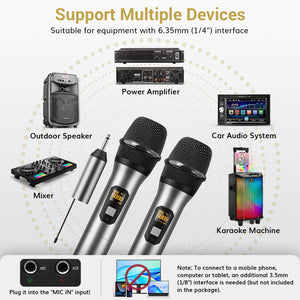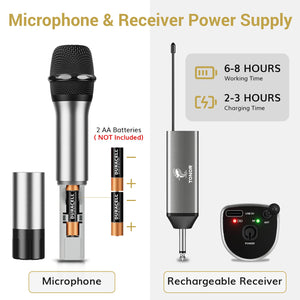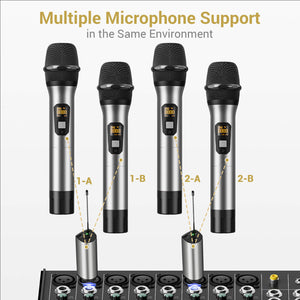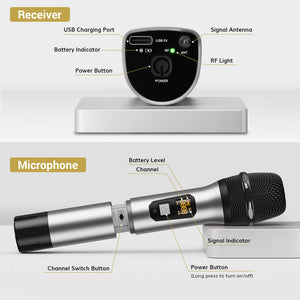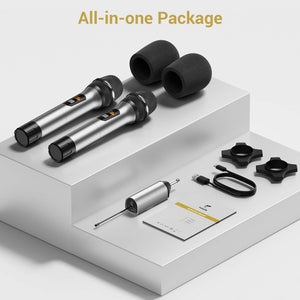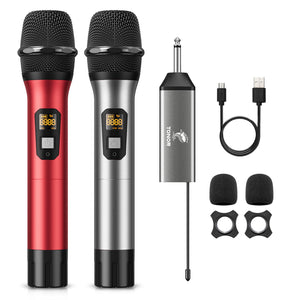 For EU Customers
Click the flag below and buy on our official Amazon Store: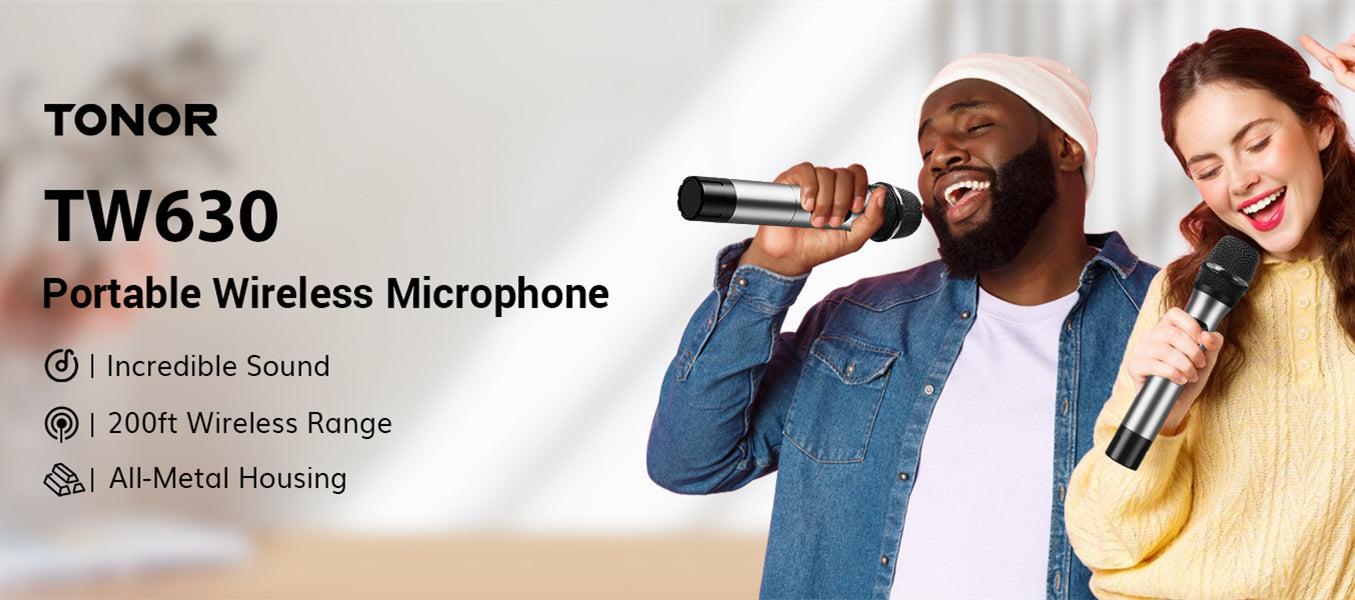 Wireless Freedom: 200ft operating range (line of sight) to freely move around during performances, suitable for indoor and outdoor activities, such as home karaoke, church, wedding, conference, speech and small stage performance.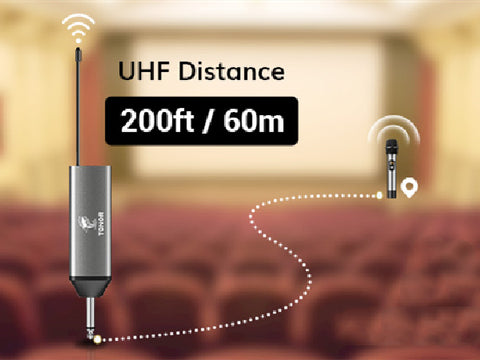 Compatibility: Excellent signal stability, compatible with powered speaker, karaoke machine, amplifier, mixer, and audio interface. (NOTE: the system is not compatible with phones, computers, or tablets.)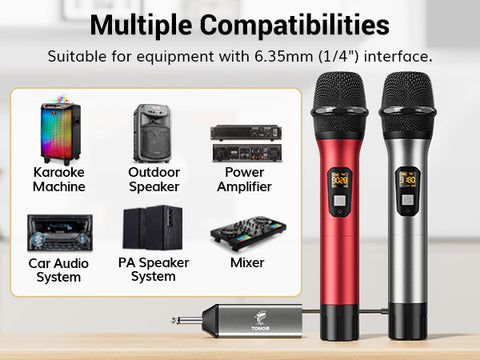 Stable Signal: Just turn on the system, then the receiver will sync the frequency with the transmitter automatically. 15 adjustable channels to get rid of radio interference, and up to 15 sets can be used simultaneously.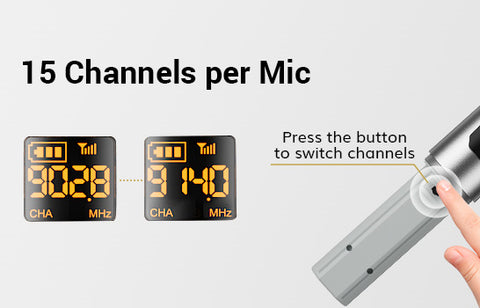 Rechargeable Battery: The rechargeable and portable receiver only needs to charge for about 2-3 hours and can be used up to 6 hours. Both mic and receiver are made of rugged metal, which has strong impact and corrosion resistance.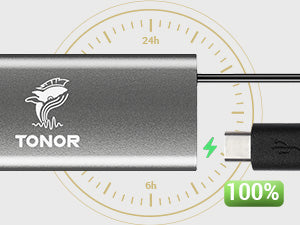 What You Get: 2 x handheld microphone, 1 x receiver with a 6.35mm plug, 2 x anti-slip ring, 2 x mic cover, 1 x USB charging cable, 1 x manual. Note: 2*AA batteries are required for each mic (not included).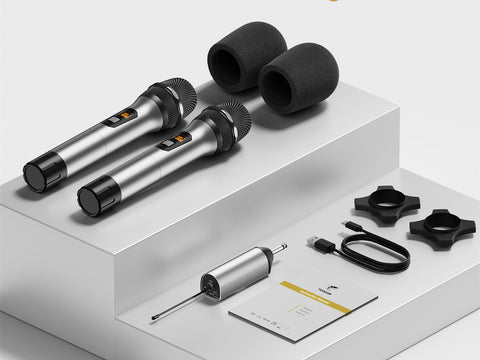 Shipping&Returns
Shipping from USA: Standard / Arrives 3-5 Business Days.
Money Back Guarantee: Return Without Affecting Secondary Sales in 30 days. 
24/7 Customer Support: [support@tonormic.com]
Customer Reviews
Impressive wireless mics
Impressive wireless microphones at a decent price. They are made of metal and have an led screen above the on/off button. The receiver is a simple 1/4 jack that plugs into a mixing board or camera. The sound quality is rich and has a nice bass tone. This is a very good option when your project is on a budget and you don't want to spend hundreds (or more) on a brand name mic system. Happy with this purchase.
On par with high end microphones
These are the real deal! This item is not that expensive but they will certainly blow your mind. I tested it to see how far I can go without the sound being interrupted and went all over the house even at the far end of my backyard but, this mic is still connected to the receiver. It's sound quality is also great, I even feel like I am a better singer in the karaoke when using this. The mics are heavy so they are not cheaply made and looks and feels like they are on par with expensive wireless mics. I am very happy with this purchase.