TONOR TC-2030 USB Microphone Kit
Gold-plated 24MM large-diaphragm makes the microphone sound range of low and high frequency wider and the sound quality more exquisite. Smooth 20Hz-20KHz frequency response, low distortion, 192kHz/24Bit sampling rate, giving you better sound quality, excellent for voice/video/instrument recording, voice over, podcast, and gaming.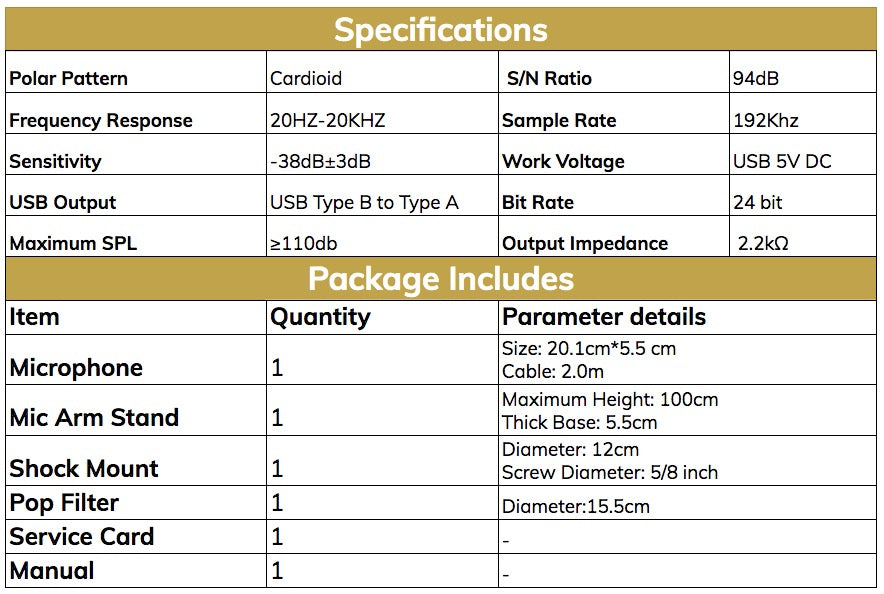 Customer Reviews
Plug n Play High-Value Mic
This mic took me by complete surprise. I went for the off-brand one, and when I received it, I put the pieces together (which by the way took maybe 5 minutes), plugged it into a USB port on my Mac, and viola! The mic was immediately recognized and I was able to start recording. Safe to say I'm extremely impressed already at this point. I've been in need of a microphone that does not pick up background noises, and once again I'm blown away by this product. For the price, it really does the job! I have zero regrets here. Regarding the hardware, I'm loving the flexible arm that came with this mic -- it really allows me to move it out of the way when need be, and easily bring it back in front of me when I'm ready again. Also the USB cable is a great long length! Right on.
Great microphone kit with a great price.
You can't get anything else like this for the price. I use it with my YouTube videos and it looks very professional. The recording quality is good and with minimal post-processing it's great. Can't recommend it enough for those on a budget. In conclusion, I am extremely satisfied with this set. This kit is an AMAZING value and it truly comes with a complete, no compromise, setup.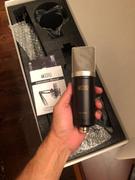 Great mic, easy setup
I love how easy this mic is to use. Just take it out of the box, plug it in, and you're good to go. The sound quality is great for a USB microphone, and the drivers install automatically once you plug the cable into your computer, so there's little you have to do besides start recording! The kit comes with a desk arm that is quite handy and sturdy, and a great foam windscreen to prevent too much breath interference. It also comes with a second mesh windscreen, which I think is my favorite to use. It's a nice starter kit for anyone who wants to podcast or vlog, and can certainly recommend it.
Great kit for out of the box recording, with the ability to upgrade and swap out pieces as needed.
I settled on this kit after trying to figure out what I need in order to do recordings of tutorials, voice-overs, and the occasional piano pieces. I didn't know enough about what all the pieces I would need and this kit looks like it had enough parts to get me started. Because it's componentized, I can piece-a-meal upgrade when the time comes. The whole kit is decently priced. The sound quality is very good for my use case. The mic is very sensitive. I was concerned that the spring and swing arms would introduce noise and pops if the table were movements of the table, but that was not the case. I'm using it with the wind screen to help control the background noise - as the room I'm using it tends to get the occasional sound. For this it works great. The rig's appearance as serious piece of equipment, piqued my kids interest in using it to record their singing, and piano performances. The plug and play of USB is a plus since it made setup easy. Plug it in and magic happens, no configuration. Just use. If I ever need to upgrade the microphone ( I can't think of a reason to), then it's a simple matter of unscrewing from the shock mount and screw in a more $$$ mic. Overall, this does more than what I needed it, and a bargin price, with the flexibility to upgrade if ever that's the case.
12/02/2020
water m.
United States
great microphone
for the price of this mic it's a steal, the quality is great and it didn't take 40 years to set up