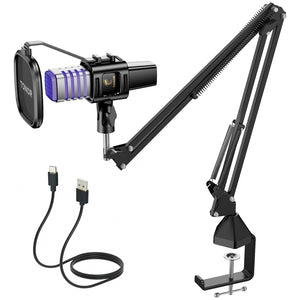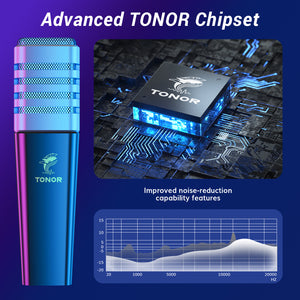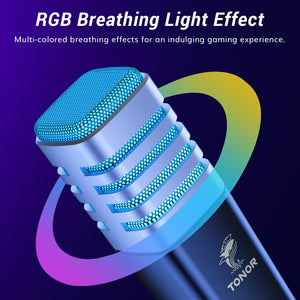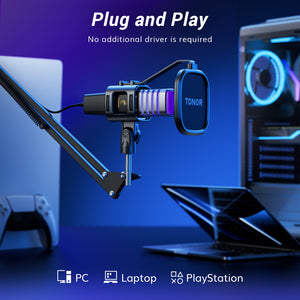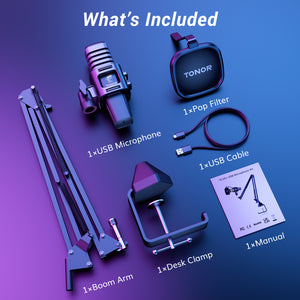 For EU Customers
Click the flag below and buy on our official Amazon Store:
Superb Sound Quality: It has a high-quality condenser capsule and a cardioid polar pattern that capture your voice clearly and accurately from the front.
Cool RGB Lights: Automatically changing RGB lights with a breathing effect makes your microphone look extremely cool. 
Plug & Play: Our plug & play feature means no additional drivers are required. Plug in to get started. (Not compatible with Xbox)
Adjustable Boom Arm: With a boom arm that extends to 27.5''/ 700mm, you have a wide range of areas to adjust the mic.
Upgraded Desk Clamp: Made of quality metal, the clamp firmly grips your desktop for stable use. Maximum desktop thickness: 2.36 inches / 60mm.
Shock Mount: With exceptional anti-vibration, the shock mount effectively eliminates desktop shaking noise.
Pop Filter: Pick up super clear and crisp voice without airflow noise. Generate clear and pure sound.
Package Included: 1 x USB Condenser Microphone, 1 x Boom Arm, 1 x Desk Clamp, 1 x Shock Mount, 1 x Pop Filter, 1 x USB Cable, 1 x Manual.
Shipping&Returns
Shipping from USA: Standard / Arrives 3-5 Business Days.
Money Back Guarantee: Return Without Affecting Secondary Sales in 30 days. 
24/7 Customer Support: [support@tonormic.com]