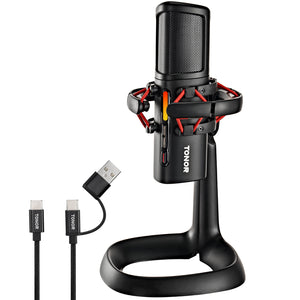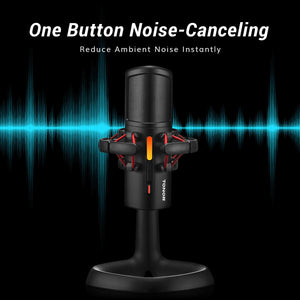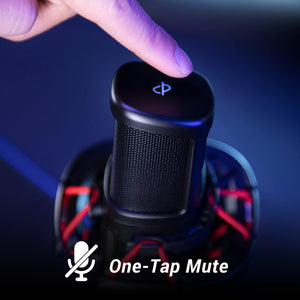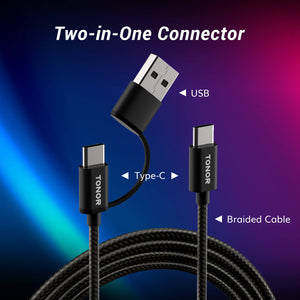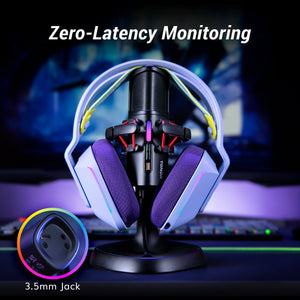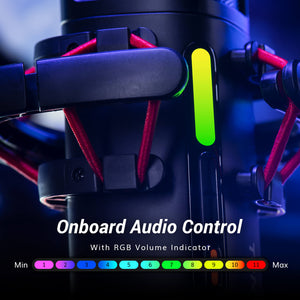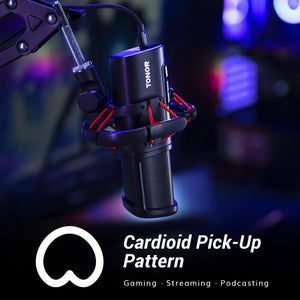 For EU Customers

Noise-Cancellation: With one-button active noise cancellation, reduce ambient noise and record clear sound every time. Suitable for Twitch, Discord, Skype, Teamspeak, streaming and team communication.
One-tap Mute: Tap the top of this streaming mic to immediately mute when needed. Tap again to unmute. 
RGB Volume Indicator: Onboard audio control with RGB indicator allows easy volume control with lights.
Strong Compatibility: Equipped with a two-in-one connector (USB & Type-C), the microphone cable is braided for durability. Easily compatible with PC, Mac, Android, PS4/5 with simple Plug N Play. You do not need to install any additional drivers too. (Note: not compatible with XBOX)
Zero Latency Monitoring: With a 3.5mm headphone jack, you can listen to the recorded content in real-time without echo, allowing you to effectively control your recording. 
Adjustable Stand: With up to 90° rotation, you can freely adjust the microphone with maximum flexibility.
Shock Mount: Isolate from desktop vibrations and keyboard clicking noises with the built-in shock mount.
Boom Arm Adaptor: Compatible with most standard boom arms in the market, the microphone is equipped with an adaptor for convenience.
Clear Sound: This condenser gaming mic uses a cardioid pick-up pattern for clear sound quality recording. With excellent active noise cancellation, it is suitable for podcasting, streaming, teleconferencing, zoom classes, making YouTube/TikTok videos, and so on.
Shipping&Returns
Shipping from USA: Standard / Arrives 3-5 Business Days.
Money Back Guarantee: Return Without Affecting Secondary Sales in 30 days. 
24/7 Customer Support: [support@tonormic.com]