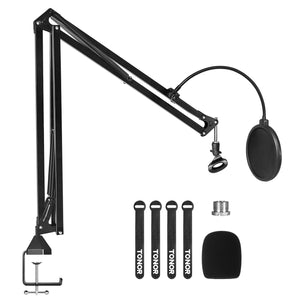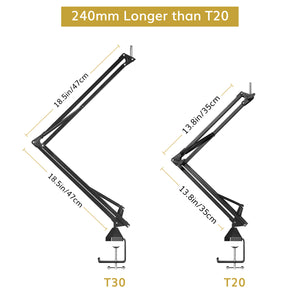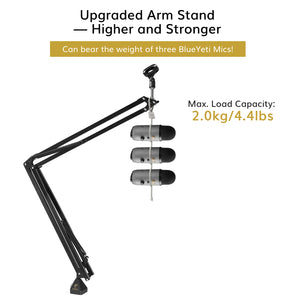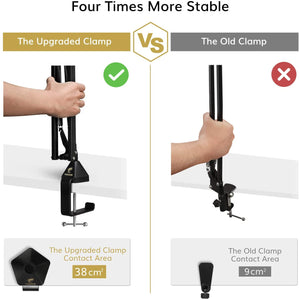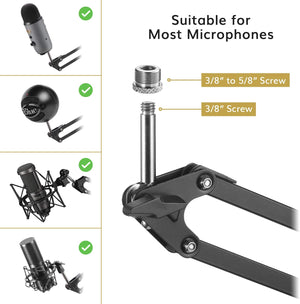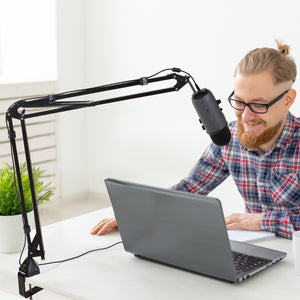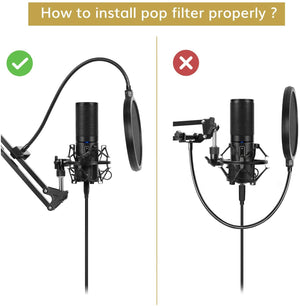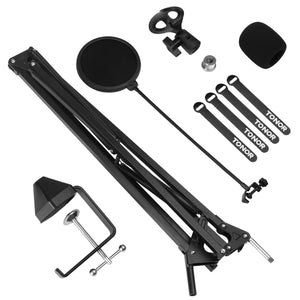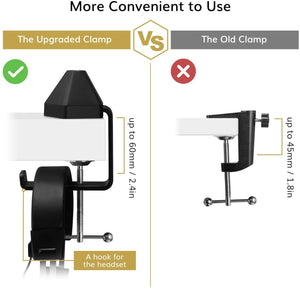 For EU Customers
Click the flag below and buy on our official Amazon Store:
TONOR T30 Microphone Suspension Scissor Arm Stand
TONOR T30 microphone arm stand is made of high-quality steel material. It can support most microphones weighing up to 4.4lbs/2kg when combined with shock mount. The springs are strong enough to support a heavy microphone like Blue Yeti with no slippage and no drooping. The cylindrical shape provides a lot more surface area to clamp onto than other desk mounts and thus makes it sit firmly.
Please note that the shock mount is NOT included.
Specifications
Material: steel
Weight: 2.4lbs
Rotation angle: 360°
Maximum support weight: 4.4lbs/2.0kg
Thread specification: standard 3/8" thread
Max. horizontal/vertical Length: 37.0"/940mm
Adapter: 3/8" female to 5/8" male adapter (included)
Fit for Most Brands of Microphones and Shock Mounts 
Customer Reviews
11/12/2020
Fredrik J.

Sweden
The best you can get for a heavy mic
Got this mic arm from Amazon. Was very suspicious of the low price compared to the claimed maximum weight of a microphone. But my fears were unfounded. This mic arm is a beast! At this price point there is simply nothing even remotely close, looking at the capabilities when it comes to weight it can carry. I use this primarily with my RØDE NT2-A microphone and the SM-6 shock mount. Too heavy for the RØDE PSA1, but not for the T30. There are a couple of things I wouldn't mind improving, even if it would mean a slight price hike: - The pop filter doesn't really attach in a good way. A different clamp would be preferable. - Paint is too easily scratched off. After only light use, the joints are worn to a metal shine. - Some sort of cable grooves to guide thicker cables would be nice. The velcro straps are really good, but something to guide the cable would help. - An added washer between the wing nuts and the frame would be good. It may seem like I have a lot of things that I dislike about this arm, but that's really not the case. I LOVE this arm! But even things you love can have room for improvements. Thank you Tonor for this excellent product.
10/27/2020
Henry S.

United States
Great product
This thing is built like a tank. It is better than I expected. It would be worth 3 times the price.