TONOR TW-820 PLUS 4-Channel Wireless Microphone karaoke set comes with 4 wireless microphones and a receiver. There are 8 adjustable channels per microphone for up to 8 systems used simultaneously.
The 8-channel UHF wireless microphone receiver has 4 receiving antennas to enhance the reception signal. 
Up to 200 feet line-of-sight operation range with stellar sound quality.
The all-metal receiver comes with separate volume control for precise vocal balance and features a 1/4" (6.35mm) audio output jack and 4 XLR outputs for easy installation. 
With standardized size, the receiver is suitable for a 19" standard rack.
Perfect for party, home KTV, church, wedding, DJ use, outdoor event, stage performance, etc.
Customer Reviews
karaoke must have
I just got into the Karaoke world and my weekends are just Karaoke. I started with wired mike but soon after it became troublesome to manage so my search ended here with Wireless. Setup was easy, the battery lasts very long. We practice every day for 2-3 hrs and I haven't changed the battery for the past one week and it's still going. The voice is crisp no static. Good thing multiple singers can use at the same time. With the press of button Mic are ready to use which comes very handy and hassle or tangling of wires. If you love Karaoke then I must say use wireless and Tonor works very well and easy to setup. It comes with all attachments.
Wireless Microphone Set
You will feel like a professional with this 4 channel wireless microphone set up in your gear arsenal. There are even 8 adjustable channels per microphone. Meaning up to 8 systems could be used simultaneously. The sound quality does not disappoint. It is excellent. The set includes the receiver, all the necessary cables and the microphones themselves. You will need some AA batteries for the mics. I am considering some rechargable myself. Great product here. I love it.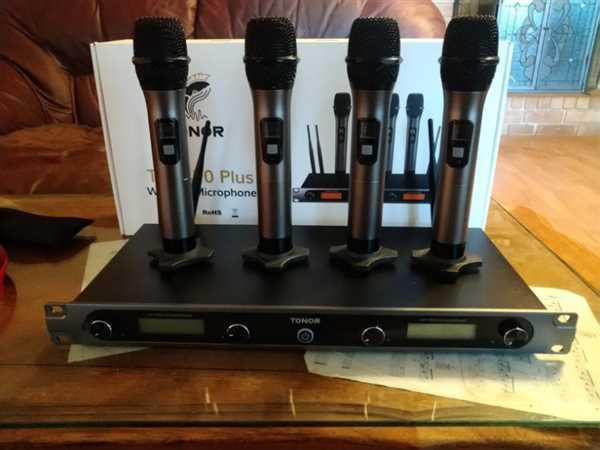 Multiple frequencies available on all mics, 2 year warranty.
We haven't used this much and I will update this review in the future if we have anything else to report. The mics seem well built and work nicely. I will say that they do require an amplified output device. Just plugging into an RCA port will likely disappoint you from a volume standpoint. Once we plugged ours into a microphone jack on our Karoake machine and turned up the microphone gain on the machine we were able to get great sound out of these. We haven't used them long enough to wear down the batteries, but we only use them for about an hour at a time and I don't expect battery life to be a problem. Each mic does have a battery indicator which is nice. I did have to manually pair one using the included instructions and it was easy to do. I do like that they have multiple frequencies for each mice which means you can buy multiples of this system and have up to 8 of these systems work in the same place as long as each microphone is on a different frequency. They come packaged well and I am using the foam packaging for storing the mics which should help them last longer. Overall I am impressed, but if I have any issues this review will be updated.
Great addition to home kareoke
I currently have this system hooked up along with 2 other smaller wireless microphone systems to have8 wireless mics in total. This system is awesome. I love how heavy they are and that they came with rubber bumpers to keep them from rolling off of the table. We now can have 8 people sing and everyone has there own microphone which is great for harmony. The setup was strait forward as was setting the frequencies so that they would not interfere with the other microphones. My only concern is that they take AA batteries. I will be getting rechargeable AA batteries so that I don't need a constant supply.
Excellent sound quality!
We use this for our church worship team. The sound quality is incredible! Very notable crystal-clear.