TONOR TC-1020 USB Microphone
Product image 1
Product image 2
Product image 3
Product image 4
Product image 5
Product image 6
Product image 7
TONOR TC-1020 has a smooth and wide frequency response (20Hz to 20kHz) that picks up and restore sound accurately and reproduces the high resolution of audio perfectly. The microphone is equipped with a 3.5mm headphone port, allowing you to monitor the input in real-time without latency. Meanwhile, you can adjust the volume of the input level of the mic more easily with the volume control.
Specifications
Polar Pattern:Uni-directional (Cardioid)
Sensitivity:-40dB±3dB
Impedance:680Ω
SNR: 98db
Work Voltage:USB 5V DC
Frequency Response:20Hz-20KHz
Bit rate: 48 khz/16 bit            
Customer Reviews
Awesome Condenser Mic!
I own a plethora of microphones and this mic is by far one of the best in its price range. The audio that comes out of it is crisp and clean. This is an excellent mic for voice overs or podcasters. The build quality is stellar as well. I think the all metal design gives it a really sleek appearance that will show well if you must keep it on your desktop. Overall I am very pleased! If you are using a Mac and are having issues with the mic connecting just follow the steps provided and you will be able to connect it.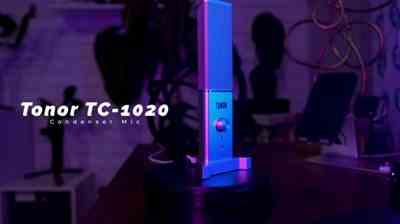 Beauty and a Beast
At first glance this mic is beautiful, and when you hear it, amazing. This Tonor mic has an all metal body with a nice rubberized base so it won't scratch surfaces. It has a thick USB cable with volume control and a 3.5 headphone port. This mic blew me away when I saw it as it's a beautiful mic and I haven't really seen a design like this before. The sound quality is amazing as it is crystal clear. A definite must for anyone looking for great sound quality and something that looks great on your desk as well.
High Quality sound for my podcast & Voice overs
I have tested this microphone for doing Voice overs while editing videos, and also using it while streaming a game, I was really impressed with the build quality of this microphone and surprised at the quality of the voice over recording, also it has amazing feature like gain control right on the microphone it self which lets you set the microphone volume to record Quiet or loud sounds, Incase you are sitting close to the microphone or really far away, I tested all the setting for how loud the microphone gets, I was wearing my Audio Tehnica sound monitoring headset while recording my voice over, I personally prefer the sound to be turned up at around 50%, I notice that the sound was very clear and easy to understand, there was no hiss, but depending on what you are doing you might need to find the microphone settings you like, I think it will go off your personality or maybe you like loud speakers then you might want to record in the louder setting for you, or maybe you are Quiet then you might need to turn things up, if you naturally a loud speaker then you will need to turn things down, I speak somewhere in the mid range so I find that middle setting is great for me, also I recorded at the sound of 10% and I can still hear my voice very clearly but the sound is considerably more Quieter, over all I am very impressed with the way this microphone was built and the sound quality, I especially appreciate the fact that this USB microphone has a gain control and that it has 3.5mm Jack for monitoring your sound recording, Also this headphone jack will work for listening to all your recordings, watching videos or hearing game play, I am also impressed that it's silver and it matches my silver Mac book pro and my silver Bose headset that comes with a 3.5mm Jack as well
Best workstation Mic
Best USB mic in this price range. Feels like more expensive mic. The sound quality is very good. No distortion or noise. Highly recommended for desktop work station, youtubers, and skype. At this price point the build and quality is top knotch. Connection with windows 10 is like a charm. Works with cortana.